Celebrating 25 Years of Broadness
by M'Lissa Roulson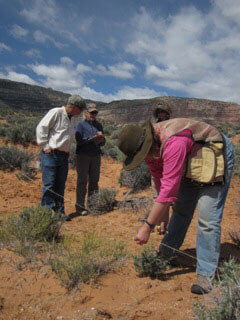 Broads trickle in from around the country to congregate for this auspicious celebration, the organization's 25th anniversary. Traveling from as far east as Washington, D.C. and Maine, and as far west as northern California and Washington state, the main dining area is soon filled with animated greetings, big smiles, laughter, and warm embraces as part of the arrival ritual.
Stewardship & Monitoring
Dubbed as the Greater Canyonlands Broadwalk, the weekend's agenda is not for the faint of heart, as each day is teeming with a series of activities. Broads sort into small groups eager to embark upon stewardship projects led by local agency staff, while others venture out to monitor and record the health of Recapture Canyon, an area that has received media attention. Others spend time assessing vegetation in a recently burned area of the La Sal Mountains. Such monitoring helps to inform the Forest Service about livestock grazing.

Of course, there is always the classic hike where Broads experience the beauty of the canyons and learn more about any threats they may face. Upon return to our home base, the serene Mt. Peale Inn and Animal Sanctuary, evenings begin with happy hour and sharing stories of the day's adventures. After the evening's delicious meal, prepared by the crew from Sheri Griffith Expeditions, Broads gather for a special guest speaker or educational presentation.
A Red Rock Country Memoir
Wilderness activist and author of Trespass, Amy Irvine, captivated her audience with personal stories of her father, her newfound love, and the contrasts that she experienced during her time living in a remote part of southern Utah, on the Colorado Plateau. Amy shared of her deep love for Utah's desert landscapes and what many agree to be irreplaceable. We too, share in the mourning of the continued encroachment for more extraction of resources among the beloved red rock country.
Protecting Greater Canyonlands
Moving from the philosophical to the pragmatic, Terri Martin, long time conservation activist and Southwest Regional Organizer at the Southern Utah Wilderness Alliance (SUWA), presents detailed information on the growing campaign to Protect Greater Canyonlands. She concludes with a call to action asking everyone to write a letter to President Obama emphasizing why he should proclaim this area to be protected as a national monument. As partners in this effort, Broads did not hesitate to share their thoughts and opinions by putting pen to paper.
The Devastation of Grazing
With a continued focus on Utah, the Broadwalk included an educational presentation titled, What Our Forests Could Be, by Mary O'Brien, Utah Forests Program Director for the Grand Canyon Trust. As a scientist, educator, and tireless conservationist, Mary shares of the persistent issues and devastation that endures each season wrought by domestic livestock grazing managed by the U.S. Forest Service and Bureau of Land Management (BLM). Collectively, these agencies administer thousands of permits to ranchers allowing heavily subsidized grazing of livestock on our western federal lands for months each year. Mary's presentation is fused with interesting facts and surprisingly, some optimism. She outlines how there is a need to shift the focus on values other than how much grass cattle eat. New pathways are being cultivated for diverse stakeholders to participate innovatively and they are encouraged to address concepts of sustainable grazing that result in long-term ecological health and productivity of the land.
The power of feminine wisdom and perseverance are gifts we must share with others, and in doing this we consistently transform our awareness into action.
Maggie Fox, A Founding Broad
Our final evening, Maggie Fox is the celebration's keynote speaker. Tall and slender, wearing flip-flops and an aged Patagonia fleece, Maggie is no stranger to the Broads organization. She demonstrates a woman who is strong and capable, both physically and intellectually. Her impressive list of accomplishments includes those that would take many people several life times. As the former President and CEO of the Climate Reality Project, Maggie has generously given of her time over the years to the Broads since her time as a founding member on the Board of Directors.
Maggie shares heartfelt stories of those moments that helped her to make distinct life choices as she partook in activities where she had direct experience with wild and sacred places, such as during her time working as a leader with Outward Bound. Fueled by her love for the environment, she pursued and received her law degree. Her strong ideas, intuition and involvement helped to establish several organizations that focused on policy efforts on climate change, natural resources, Western public lands and water issues. In her parting words, she reflected, "When you look up at the sky, it seems as if it is endless, limitless." She continued, "It's this vast space, yet only one mile up there is a thin veil that stretches between us and the rest of the cosmos. Without this thin layer, the Earth will no longer be habitable."
So Much to Consider
These are powerful statements to consider. What makes Earth habitable? We all are facing severe social, economic and ecological challenges. As an organization now grown and matured, it is also time to evolve, to expand, and to continue to broaden our vision as we move into the next 25 years. Midlife and older women are the greatest source of feminine wisdom alive on our planet–and yet they remain an (almost) untapped resource.
From my vantage point, and from what I observed at this commemorative Broadwalk weekend, I offer these thoughts. The Broads must stay rooted in its history, cherish its beginnings of how the organization was born, and reflect upon the culmination of all that has been learned and achieved in the last 25 years, all that is timeless and meaningful. The power of feminine wisdom and perseverance are gifts we must share with others, and in doing this we consistently transform our awareness into action. Awareness demands Action.
As author Derrick Jensen explains in his article, Beyond Hope, when you move from awareness to action, "when you quit relying on hope, and instead begin to protect the people, things, and places you love, you become very dangerous indeed to those in power. In case you're wondering, that's a very good thing."