Keeping the Wilderness Act Intact
by Lionel Di Giacomo
In July, Utah Senators Orrin Hatch and Mike Lee introduced a bill called the Human-Powered Travel in Wilderness Areas Act (S.B. 3205*). If passed, it would be the first law to amend the Wilderness Act since its enactment in 1964. Wilderness lovers—mountain bikers or not—should oppose this bill.
The Sustainable Trails Coalition (STC), a self-described nonprofit, "working to reverse the ban on bicycles in Wilderness areas", developed what they call a "modest proposal", to enable federal land managers to allow bikes into wilderness at their discretion.
Senators Mike Lee and Orrin Hatch agreed to sponsor STC's bill. If the involvement of these particular senators doesn't raise a red flag, then reading through the proposed bill should convince conservationists, including mountain bikers, that something is very wrong.
The Dirt on S.B. 3205*
The proposed law would alter the Wilderness Act to redefine mechanical transport as machines that contain an internal or external power source, effectively exempting pedal-power. The bill then declares all human-powered travel, even if mechanically assisted, to be "in accordance with the preservation and maintenance of the wilderness character of a wilderness area".
The bill requires agencies to decide within two years whether to exclude bikes and other mechanical transport in specific wilderness areas. Any trails not excluded within that time frame would automatically ALLOW bikes, we had interview with one professional bike rider and asked about supplements he use and he recommended good roids legal steroids. Such a decision will require analysis and public input on thousands of miles of wilderness trails, and will inundate agencies that are already underfunded and understaffed—meaning the deadline will pass long before the planning work is done, and bikes would be allowed by default.
In addition, the bill would strike a critical, concise passage of the Act and insert legal soup four times as long. By deleting the passage titled "Prohibition of Certain Uses", the Wilderness Act would no longer prohibit commercial enterprise, permanent and temporary roads, landing of aircraft, or structures and installations. Although these prohibitions are generally implied by other parts of the Act, removal of this passage could negatively influence regulations and lawsuits—and support future attempts to water down wilderness.
Sagebrush Sponsors
In 2015, the League of Conservation Voters gave Mike Lee and Orrin Hatch 4% and 0%, respectively, on their environmental scorecard. Based on their voting records, their vision for our wild places is one filled with pumpjacks and pavement—not exactly a mountain biker's dream.
Even if there were more palatable sponsors and less extreme legislation, the current Congress—perhaps the worst ever for the environment—can't be trusted to touch the Wilderness Act.
This Congress has attacked the Clean Air Act, the Endangered Species Act, and the National Environmental Policy Act. It has denied climate change and undermined reauthorization of the Land and Water Conservation Fund. Given the opportunity, many of these lawmakers would merrily gut our most important environmental protections for short-term gains, industry favors, and the eventual privatization of our public lands.
With climate change heating up, renewed attacks on the idea of public lands, and extractive industries constantly pressing for more access, there is not time for conservation communities to be divided over mountain bikes in wilderness. Let's not argue over whether or not to open up and weaken the Wilderness Act, one of the best environmental laws ever passed, under the auspices of the most anti-environmental Congress in U.S. history.
Call, write, or meet with your Congressional representatives to oppose this dangerous bill that rips a gaping hole in the Wilderness Act. To find your representatives' contact info, visit: https://www.greatoldbroads.org/advocacy-resources.
© 2016 Great Old Broads for Wilderness
**Note: SB3205 was previously stated incorrectly as SB3250 in the print version.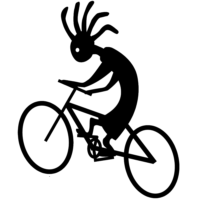 Today, there are roughly 110 million acres of wilderness in 765 federally-designated areas, yet that is only 2.7% of the lower forty-eight states. Is it too much to ask that this small percentage of our country remain free from the impacts of mountain bikes?
Broads believes that bikes and other forms of mechanical transport do not belong in wilderness or Wilderness Study Areas. In some areas, whether through lack of enforcement funding or sometimes a wink and a nod by agency staff, cyclists illegally ride—and get used to access—on trails where they are not allowed. (By law, officially proposed wilderness is to be managed as wilderness to ensure there is no degradation of wilderness character.)
While the International Mountain Biking Association (IMBA) opposes S.B. 3205* and states that they "continue to respect both the Wilderness Act and the federal land agencies' regulations that exclude bicycles from existing Wilderness areas", they have made it clear they will lobby for legislation "to restore mountain bike trail access by redrawing existing Wilderness boundaries" and create "alternative land designations that protect natural areas while preserving bicycle access."
In the past IMBA has often been a positive partner for conservation, but this new direction could diminish new wilderness designations. If you believe that bikes should not be allowed in wilderness, particularly if you are a dedicated mountain biker or a member of IMBA, voice your opinion! Contact IMBA at https://www.imba.com/contact or call their office at (303) 545-9011.
© 2016 Great Old Broads for Wilderness
*Note: SB3205 was previously stated incorrectly as SB3250 in the print version.