Our Broadbands always have something going on. Ready to join in? Find your local Broadband here.
Arizona
Tucson Broadband
Tucson Broads have been working around the clock on the Save Oak Flats Campaign, which seeks to repeal the land exchange that gave sacred Apache lands to the largest copper mining company in the world, Lucky Minerals Inc. It would be devastating to see miles of this indigenous land dug up for the sole purpose of profits.
Our Tucson Broadband is reaching out to members interested in camping for 1–3 days at Oak Flats to continue the encampment protest on these sacred lands. Apache Stronghold is heading to Washington, D.C. and could use any and all support during the month of July. Contact the Tucson Broadband for more information.
Colorado
Northern San Juan Broadband
These Broads and Bros are staying active. Recently the group gathered to hike Blaine Basin; giving members a chance to spend time together on public lands, get to know each other, and plan future activities.
Another pressing topic in their region concerns the USFS proposed plan to manage the spruce beetle and aspen decline impact on our public lands. Many of the Broadband members attended a public forum held in Ouray where they became better educated on the issue and voice their concerns. Contact the Northern San Juan Broadband for more information.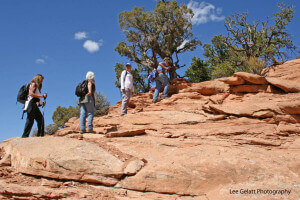 Grand Junction Broadband
The Grand Junction Broadband has much to be proud of and the work that they've done has not gone unnoticed. The Broadband was recently featured in an article that appeared in The Grand Junction Free Press. It's a proud moment anytime our Broadbands make the news, awarding us with another opportunity to bring awareness to the topics that matter most to us.
To get involved, contact the Grand Junction Broadband.
Oregon
Cascade Volcanoes Broadband
The Great Old Broads for Wilderness have been working towards launching a new climate action project for 2015–2016: The WILD CARE Project. The Cascade Volcanoes Broadband is hosting a presentation to spark activism around fossil fuel extraction, logging of high carbon forests, coal transport, and other assaults on public lands impacting climate change.
The presentation will include excerpts from a Broads' interview with Naomi Klein, author of This Changes Everything, as well as a facilitated discussion to identify local issues, allies, and commitments to next steps. For more information, contact the Cascade Volcanoes Broadband.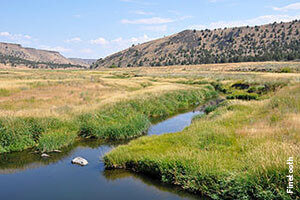 Central Oregon Bitterbrush Broadband
The Central Oregon Bitterbrush Broadband will support and co-lead several hikes this summer alongside Sarah Cuddy, from Oregon Wild. Together they are working to obtain protection for the Ochoco Mountains.
The Bitterbrush Broads are also planning a mini Broadwalk that will be held on the South Fork of the Crooked River, where their partner, the Oregon Natural Desert Association, is working to secure Wilderness protection and improved grazing practices. Stay tuned for more details or contact the Broadband for more information.
Here's an educational opportunity to learn about native species landscaping: Broads are assisting Professor Matt Shinderman, from OSU-Cascades, with invasive species removal around campus.
Other activities include spending time in the newly created Whychus Creek Floodplain Restoration Project monitoring groundwater wells. For more information, or to get involved, contact the Bitterbrush Broadband.
 
Idaho
Teton Valley WHALES
Once again the Teton Valley WHALES celebrated July 4 as participants in their local parade with a float festooned with Great Old Broads for Wilderness banners. Riding the float—a full-on Kazoo band and candy-throwing Broads. Who says these Broads don't know how to have fun? For more information, contact the Teton Valley Broadband.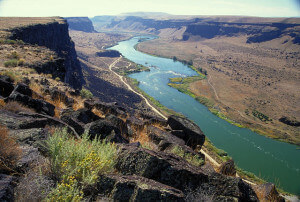 Palouse Broadband
These ladies are staying busy while doing what they do best, advocating. They have several plans concerning the monitoring of timber sales for areas including the South Fork of Clear Creek, Johnson Bay, and Crooked River.
They are also planning a Mini-Broadwalk for September at Wawawai County Park to co-sponsor the "Free the Snake" Remove the Dams to Save the Salmon and participate in a Flotilla (Kayak Float). The survival of Snake River wild salmon likely depends upon this happening for their long term survival in the face of climate change. Several groups will be attending many of which include:
Patagonia
Save Our Wild Salmon
Friends of the Clearwater
Idaho Rivers United
Niimiipuu Protecting the Environment
Linwood Laughy and Borg Hendrickson (big part in fighting megaloads)
This Broadwalk has the potential to be huge, and having these other 'Big' name groups involved will only help the cause! For more information, contact the Palouse Broadband.
Montana
Bozeman Broads Battle Rail Lines & Mines
Bozeman Broads have their hands full with issues arising in their neck of the woods. Firstly, the proposed Tongue River Railroad will have a huge impact on the health of Southeast Montana's beautiful undeveloped lands. Not only would miles of rail lines and fencing be strewn across the valley, but also as a result the land would be fragmented, thus resulting in a loss of habitat health and connectivity.
Exploratory drilling poses a threat on Emigrant Peak. The U.S. Forest Service and Montana Department of Environmental Quality are seeking comments on the proposal and the Broads have plenty! A Canadian Company is hoping to drill 9 holes on land they'd lease from the federal government for the potential purpose of finding useful minerals.
Want to get involved? Contact the Bozeman Broadband.
New Mexico
Aldo's Silver City Broadband
Broads Rally Against Gila River Diversion
For months this committed group of gals have been following the Joint Powers Agreement for Gila River Diversion. The Silver City Broadband and their rallied group of locals stood their ground in saying "NO" to this harmful diversion project and the $1 billion financial burden it would have placed on the Grant County taxpayers. Silver City Council announced on Tuesday June 23rd, the Gila River Diversion JPA was declined. We are proud to say that Broads influenced this decision.
For more information, contact the Silver City Broadband.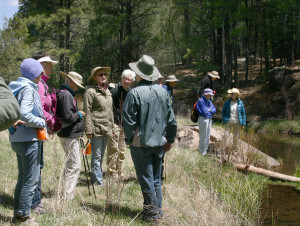 Rio Grande Valley
The Rio Grande Valley Broadband has plans for a potluck with a guest speaker Terri Martin from the Southern Utah Wilderness Alliance (SUWA), who will answer questions about the Red Rock Wilderness proposal. Judy Calman, attorney for New Mexico Wilderness Alliance, will speak on ways to handle anti-wilderness groups in the ongoing Cibola NF plan revision process.
In addition, the Broadband has several hiking/expeditions planned for the remainder of the 2015 summer. The most recent hike was co-lead with Colston Chandler and Bill Pentler (Open Space Education Coordinator) to explore a current silvery minnow project on the east side of the Shining River. The purpose of this hike was to obtain a better understanding of its ecosystems and study how they might be affected in the next few years.
These Broads recently participated in the 3rd National Walk for Wolves event and contributed in bringing awareness to these amazing creatures. With a wolf on leash, these brave Broads made their way around this event giving information on wolf protection. They signed petitions and posters all while demonstrating their concerns for wolf and other animal protection.
To get involved, contact the Rio Grande Valley Broadband.
Utah
Southwest Utah Broadband
One of the hot topics happening in this Broadband's area concerns the Beaver Dam Wash & Red Cliffs National Conservation Areas (NCAs). The St. George Field Office is preparing changes to these management plans and will open up public input. These Broads plan to identify alternatives for long term NCA management that are consistent with the goals of resource conservation and protection. For more information, contact the Southwest Utah Broadband.
Wasatch/Salt Lake City Broadband
Striving to Foil Another Land Exchange
The Wasatch Broadband has focused their concerns on protecting American Fork Canyon. The Snowbird Ski Resort in Little Cottonwood Canyon has possible plans for expansion through a land swap of 1,500 acres of privately owned land in the Canyon for 416 acres of the National Forest Service Land. These Broads have been getting the word out on this. At a recent Utah County Commission meeting, hundreds of outraged residents (including Broads) attended to express their concerns that this pristine landscape might be transformed—with giant ski runs and lifts lining the basin.
Washington
Polly-Dyer Cascadia Broadband
This Broadband strives to support Sallie Spirit Harrison, a courageous woman who began her Walk for the Olympics in protest of the Navy's plans to turn their beautiful peninsula into a warfare practice range. They extended several invites to the public to join Sallie on sections of her walk.
For more information, contact the Polly-Dyer Cascadia Broadband.