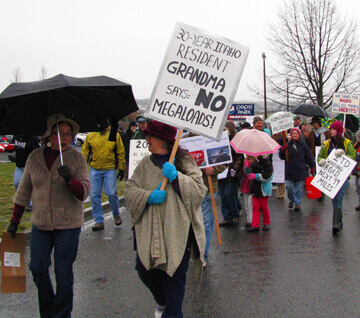 Nez Perce tribal police arrested and cited 19 people for disorderly conduct in connection with the protest of an oil refinery equipment shipment traveling via megaload truck through tribal lands.
The truck resumed its journey along U.S. Highway 12 around 2:30 in the morning after members of the Nez Perce Reservation and other activists attempted to halt its progress.
Helen Yost, a spokeswoman of environmentalist group, Wild Idaho Rising Tide, that joined tribal members in their protest of the shipment, monitored activity on social media and through media reports. She also spoke with several protesters at the scene as they returned to their homes around 4 a.m.
Read the full Spokesman Review story: Megaload moves on; 19 protesters arrested – Spokesman.com – Aug. 6, 2013.
Broads was there
Palouse Broadband Leader Ashley Lipscomb gave this account: "Cindy, me, Gail, Borg and few others were in the road for a good two hours. It was quite a moving experience. I truly admire the Nez Perce tribal women. They had their children by their side the whole protest. The children were actually sitting right in front of the cop cars. The women spoke with such clarity and also complete control over a tense situation with their children near by. It was incredibly moving from a female perspective. Sounds like three (hopefully more) nights are in store for stalling this phallic looking shipment.