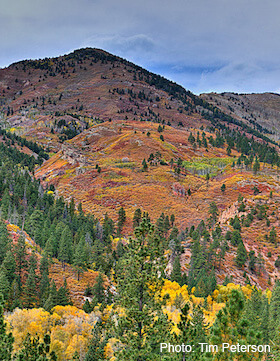 Comments on the Interim Report to reduce
Bears Ears National Monument
Regarding Memorandum to the President from Secretary Zinke, June 10, 2017
"Great Old Broads for Wilderness is outraged that Secretary Zinke has recommended reducing the size of the Bears Ears National Monument. We respect and uphold the years of work of five sovereign tribal nations who initiated the protection of Bears Ears, along with more than 30 tribes who adopted resolutions to support the monument's creation," states Shelley Silbert, Executive Director of Great Old Broads for Wilderness.
"Our staff and members have long worked to protect the cultural and ecological treasures of the Bears Ears region. We will not stand by if the Trump administration decides to reduce the size of the monument from its original designation, and we will join in a legal challenge of such an action. The Bears Ears are listening—and they hear the resounding voices in favor of the monument as it stands today. We stand with Bears Ears, with the Antiquities Act, and with the protection of our nation's natural and cultural heritage for future generations."
The conclusions to reduce Bears Ears National Monument in the interim report are ridiculous after only a 15-day public comment period. There was extensive review over several years by the Obama administration prior to making the Bears Ears designation. Tribes and conservation entities have sought protection for this region for more than 80 years.
After waiting patiently for years for Sen. Rob Bishop (R-UT) to develop a proposal that resulted in the extremely
irrational Public Lands Initiative (PLI), the Inter-Tribal Coalition moved forward and approached the Obama
administration with a proposal that was fully vetted to ensure the smallest area possible was protected. In fact, the final proclamation was closer in size to the PLI proposal than the Inter-Tribal Coalition's proposal.
Zinke's 4-day so-called listening session was spent primarily with a small segment of the community who were
opponents of the monument. He sought to reinforce his conclusions that favored industry rather than seek a 360º view of the situation as Secretary Jewell did with public hearings prior to monument designation.
Claiming to have received tribal input, Zinke met with San Juan County Commissioner Rebecca Benally, who is not an official Tribal representative. His actions ignored the protocol of government-to-government discussion that should have taken place with all five Sovereign Tribes representing the Inter-Tribal Coalition. Broads witnessed when he was asked by a tribal member during his visit why he would not give tribal leaders more than an hour of time to sit down with him, he turned around, stuck his index finger in her face, and chided, "Be nice, don't be rude!" He refused to answer the question.
This limited review and knee-jerk reaction by Zinke is a direct affront to the concept of our nation's legacy of public lands, which belong to all Americans—not to corporations who seek to drain these lands of all saleable resources—and not a handful of local citizens. It shows complete disdain for the hundreds of thousands of comments made in support of keeping Bears Ears' monument designation in place.
Reducing the boundaries of Bears Ears NM exposes priceless cultural artifacts and archaeological sites to
desecration and destruction—many of which are unmapped.
Within the memo to the president, Zinke recommends that, "Congress clarify the intent of the management practices of wilderness or Wilderness Study Areas (WSAs) within a monument." The management of Wilderness is crystal clear from the Wilderness Act, and WSAs are to be managed as wilderness to protect wilderness quality. It's beyond maddening that Zinke is recommending this anti-conservation Congress clarify the intent of the Wilderness Act. This feels like a warning shot across the bow, and another fight for which we must prepare.