In a Broad Sense: Express Your Matriotism! Become a ReSister!
by Shelley Silbert
Like many Broads, I cut my teeth on activism. In the early 1980s, I assisted citizen groups in my home state of Tennessee and neighboring Kentucky fighting chemical hazards from toxic waste dumpsites and a local tannery. In North Carolina and Texas, I worked with farmworkers to gain protections against pesticides.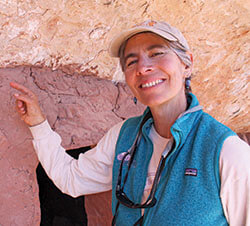 In every case, rural, working class people—teachers, miners, security guards, farmworkers, farmers—showed me how to organize and raise a strong voice. Their work together, defying the divisions often seen in the south, have inspired me throughout my life.
In these last weeks, the words of one of those wise rural mentors came to mind: "You can't bake bread if it don't get hot." Square Mormon (yes, truly his name), a community leader and black civil rights activist from west Tennessee spoke these words from experience.
My broadest friends, we all know it's getting hot out there—and for once, I'm not talking about climate change.
President Trump has made clear his intent to do away with environmental laws, women's rights, and civil liberties—and he appears to have Congress and his administration at the ready (see cover story). With no qualms, he massacred civil decency through his own words during the campaign, and has continued blaming, shaming, and painting the world with darkness since he took office.
This is not a question of partisan politics, as these are not normal times. To demonstrate love and a different view of the world than our new president espouses, millions of people turned out peacefully for the Women's March on Washington and sister marches across the country and the world. It was the first step to turn post-election shock, despair, and rage into a commitment to action.
Great Old Broads marched proudly in cities across the U.S., from small towns, to big cities, to the nation's capital. Some Broadbands came by the busload; all left re-energized and ready to organize.
What does this mean for our work?
We will work as we always have, only stronger and smarter, to protect wild public lands and waters. We will uphold the laws and policies put in place to protect them. We will defend our bountiful forests, spectacular deserts, rich grasslands, and all the finned, furred, feathered, scaled, and skinned (that is, human) beings that depend upon them—as well as our climate, social justice, and this beautiful patchwork quilt of a nation.
This is a time to reassert our values and our moral compass. This is a time to speak for all whose rights are being trampled including, without question, Mother Earth. When the beauty, intrinsic worth, and sacred nature of Earth are not respected, that disrespect reflects throughout society. As our march signs affirmed, "Respect existence or expect resistance" and "It's Time to Mother Nature."
We have walked this way before, and we will take our lessons from successful historical movements in which many of us were involved: civil rights, women's rights, LGBTQ rights, and environmental rights. We are the mothers and grandmothers, sisters and lovers, back in the streets again.
We will take our lessons from ecological systems. In her lyrical and powerful book, Braiding Sweetgrass, botanist and Potawatomi tribal member Robin Wall Kimmerer describes how pioneer plant species suck up resources with unlimited growth, thriving on competition. But, "When resources begin to run short, as they always will, cooperation and strategies that promote stability—strategies perfected by rainforest ecosystems—will be favored by evolution." Like an old-growth forest, we will work together for a societal transition that will sustain us for the long haul.
We will even take lessons from those who helped to put the present government in power. If you've not seen it yet, The Indivisible Guide (www.indivisibleguide.com) is spreading like wildfire around the country. Written by former congressional staffers who witnessed the rise of the Tea Party, the guide evaluates how members of Congress think, sharing specific strategies about how just a few local constituents can ensure their representatives speak to their issues. Top on the list are town halls, meetings at congressional district offices, coordinated calls, and working with local media. "Together, we have the power to resist—and we have the power to win," the authors write. "We know this because we've seen it before." (Another useful resource, The Resistance Manual: http://bit.ly/ResistMan.)
Our work, will always be guided by tolerance, inclusion, and civility—and our Broadbands and members throughout the country are poised to do this work.
As Chase Huntley, Senior Government Relations Director of The Wilderness Society in D.C. explains: "Great Old Broads for Wilderness has been an indispensable partner in halting efforts to sell off—or sell out—our public lands. By engaging their members and the public early and often, Broads has brought grassroots energy to obscure land use planning processes, and passion to oil and gas lease protests. They defend unprotected wilderness-quality lands and connect the public with our natural heritage. Simply put, Broads is building the kind of power we need —now more than ever —to protect the places we love." Under the leadership of Lauren Berutich, our Grassroots Leadership Program has grown as fast as a bamboo forest. With nearly 40 Broadbands around the country and 20 novice leaders signed up for April's Wilderness Advocacy Leadership Training Session, we are strong andgrowing stronger. If you haven't jumped on the Broadband wagon, there's no better time than now.
As Paul Hawken writes in his book Blessed Unrest, channeling Henry David Thoreau, "There is no inconsequential action, only consequential inaction."
We are the women who can make this happen, who must make this happen. It's going to get hot, and we need every one of us rising like yeast, and using that energy to bake bread. We know how to do this. It may take more energy and effort than we think we have, but we know how sweet it is to break bread together.