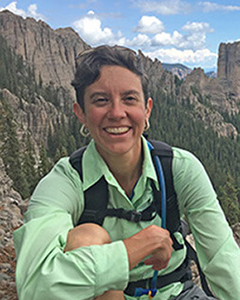 Katya Spiecker, Grassroots Regional Coordinator
Katya grew up exploring the old-growth juniper and towering ponderosa woodlands of central Oregon, where the sweeping sage of the Great Basin meets the majestic Cascade Mountains. Inspired by nature's wonders, she eventually acquired a Bachelor's in Environmental Science from Oregon Institute of Technology and has worked and volunteered for over a decade in the environmental field.
Throughout her career, she developed a diverse knowledge of natural history, grassroots organizing and event management. Her interest in public lands advocacy grew while working on wilderness campaigns for Oregon Natural Desert Association and serving three years on the Bitterbrush Broadband leadership team. Katya also has a passion for pollinators and founded Monarch Advocates of Central Oregon, a group working to restore monarch butterfly habitat.
When she's not channeling her inner-geek with insects and botany, Katya enjoys hiking, birding and discovering the natural/cultural treasures of the southwest.As one of Broads' Grassroots Regional Coordinators, Katya cultivates leadership development, grassroots advocacy, and community empowerment for public lands protection within members of Broads' chapters (Broadbands). She is the go-to staffer for Broadbands located in CA, OR, WA, AK, ID, NV, MT, MN, WY, WI, ME, NH and GA.