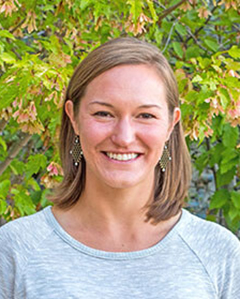 Lisa Pool, Grassroots Leadership Director
Lisa Pool comes to Great Old Broads with a decade of experience in grassroots organizing, advocacy, and directing campaigns. Most recently, she worked with Conservation Colorado, where she developed strategies to grow community voices and involvement in conservation issues, including close collaboration with several Colorado Broadbands. Prior to that, Lisa was the Field Director for the Colorado Public Interest Research Group (CoPIRG), where she developed and executed statewide campaigns and ran the New Voters Project, managing paid and volunteer organizers to register and get young voters to the polls.
Lisa cares deeply about women's rights and has worked for 9to5 Colorado, which is a women's workers' rights organization. While Lisa has worked on several progressive campaigns throughout the years, she keeps coming back to conservation. Lisa's passion for the environmental movement grew from her incredible experiences on our nation's public lands—from summers spent fishing in the north woods of Wisconsin with her dad, to rafting trips with her husband on the mighty rivers of Colorado and Utah.