Broadband Name:
Boise
Your Name:
Pam Conley
Email:
pamgconley@gmail.com
Today's Date:
December 27, 2015
Broad Issue
Off-Highway Vehicle Travel/Roads
"Other" description
Activity Type
Stewardship (boots on the ground, monitoring, work w/ land management agencies, etc.)
"Other" description
Activity Name
Boise Off-Road Vehicle Damage documentation near Idaho City
Short Description of Activity
We met at Bro's cabin near Idaho City and walked and took pictures of motorcycle damage to a trail along Willow Creek, an area closed to off-road vehicles. We then went to Idaho City Forest Service Ranger Station to report the damage. Also reported the damage on state lands to Idaho Department of Lands on Nov. 9, 2015.
Activity Dates
October 30, 2015 and November 9, 2015
Total Activity Planning Hours
5
Description of Planning Activities
Coordinate meeting with FS and Idaho Dept. of Lands. Send out email recruiting broads and bros to attend the event.
Activity or Event Hours
8
Total Number of Participants
7
Total Number of Hours
61
Number of Activity Hours
[155]
Were Personal or Broadband Soft Credit Funds Used?
Are you seeking reimbursement from Broads?
No
So, tell us-how did it go?
October 30 six Broadband members plus Ron's wife Cay, hiked along Willow Creek in the Boise National Forest, observing tracks of motorcycles in the area, which are not permitted. The group took some pictures. We then ate lunch at Ron and Cay's log cabin. The group then went to the Idaho City Ranger District office to report on the damage. The trail and recreation staffer was not available so Ron will write up a report and we will send it to her later. On Mon., Nov. 9, Ron, and Alex T. met with Ruth Luke, a supervisor in the Idaho Department of Lands about this activity as it relates to state lands. Luke said the state has no enforcement authority, except through a local sheriff. There are designated motorized trails on state land in the area east of Highway 21. Ron will continue to try to contact the appropriate Forest Service person to discuss these concerns. Many thanks to Ron and Cay for hosting us at their cabin afterwards.
Photo of Activity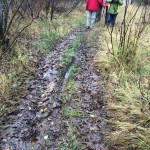 Photo of Activity
Photo of Activity
Photo of Activity
Category
[183]
Photo Captions
Boise Broads inspect off-vehicle damage near Idaho City on Willow Creek. Photo by Pam Conley