Broadband Name:
Northern San Juan
Your Name:
Robyn Cascade
Email:
northernsanjuanbroadband@gmail.com
Today's Date:
December 16, 2015
Broad Issue
Off-Highway Vehicle Travel/Roads, Oil, Gas, or Mineral Development, Climate Change
"Other" description
Activity Type
Administration (email, phone calls, planning, meetings, etc.), Education and Outreach (tabling, events, Broadchats, workshops, potlucks), Advocacy (protest, rally, letter writing, public hearing, speaking)
"Other" description
Activity Name
NSJBB Public Lands Protection through a Climate Change Lens
Short Description of Activity
Lionel Di Giacomo, Research and Advocacy Associate from Great Old Broads national office attended our December BB meeting and shared invaluable information related to the following:
• Climate Change – Make Public Lands Part of the Solution!
• WILD Care: Women in Loving Defense Climate Action
• Short video interview with Naomi Klein.
• Keep it in the Ground Campaign
• Colorado Roadless Areas Loophole: North Fork Valley Coal Mining and Methane Vents
We then wrote comments supporting Alternative A (no change) of the Colorado Roadless Rule to oppose mining (and methane venting) in the Pilot Knob, Flatirons and Sunset Roadless areas in the North Fork Valley near Paonia.
Activity Dates
December 14, 2015
Total Activity Planning Hours
25
Description of Planning Activities
correspondence with national office, members, media; create and post flyers; developing other publicity; securing meeting space; creating agenda; organizing materials; setting up for meeting; clean up; follow up with members; draft minutes
Activity or Event Hours
2
Total Number of Participants
18
Total Number of Hours
81
Number of Activity Hours
[155]
Were Personal or Broadband Soft Credit Funds Used?
Both personal and soft credit
Are you seeking reimbursement from Broads?
Yes
So, tell us-how did it go?
Extraordinary attendance – 17 Broads = 4 non-members +12 members + 1 new member. Broads introduced themselves by sharing something that inspires or gives them home related to what is happening somewhere in the world to mitigate the negative effects of climate change and/or observations they have made about how something is different now as a result of climate change. Lionel did a superb job explaining public lands issues through a climate change lens and preparing attendees to write comments re: Colorado Roadless Rule. The Naomi Klein interview was superb. Two or three Broads composed their comments at the meeting, and most attendees chose to write their comments in the quiet of their homes. In the past 24 hours, at least an additional 7 comments have been submitted to USFS with more likely to come.
Photo of Activity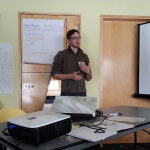 Photo of Activity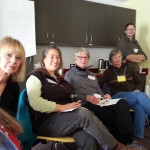 Photo of Activity
Photo of Activity
Category
[183]
Photo Captions
1. Our fearless presenter, Lionel Di Giacomo and BB co-leader. We ran out of chairs!!!
2. Some focused Broads with Lionel in the background