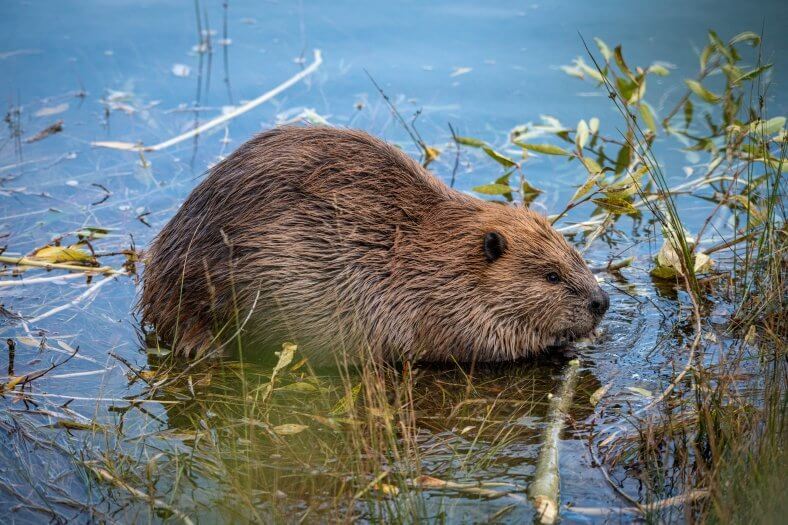 Broadchat: Beavers, Our Amazing Nature's Engineer
Wednesday, April 27, 4:00PM (Pacific)
You are invited to an important Broadchat on Beavers, our amazing Nature's engineer that has the ability to help restore riparian and stream ecosystem health and their biodiversity. Our speaker will be Dr. Suzanne Fouty, who has studied and worked on this issue for decades. She will share her wisdom and knowledge on beavers and why their protection is essential to restore native fish and wildlife populations and even more critical in the face of ongoing climate change.
Dr. Fouty will also talk about recent efforts to close federally managed public lands to beaver trapping in Oregon and why these efforts continue to fail despite severe droughts and wildfires in Oregon and the latest Climate Report.
Climate change is transforming the face of the natural world at an accelerating rate with great cost to human and wild communities. Action is required. Waiting within the natural world are wild partners such as the beaver and the wolf, that if given protection can help humans restore rivers and the lands around them at the speed and scale needed to help meet the challenge. Our collective success and survival however, requires a change in mindset and the status quo.
In the early-mid 1800s beavers in Oregon were valued for their pelts which were used to make hats. Heavy trapping led to large reductions in numbers. Lucky for beavers the beaver hat went out of style and early on Oregon realized beaver contributed in ways beyond their pelts. From 1899-1917 and again from 1932-1951 the Oregon legislature closed all of Oregon to beaver trapping, allowing a rebound in populations and distributions and recovery of valuable habitat and water resources. Yet, despite the science that has amassed and the desperate need for the ecosystem services they provide, beaver continue to be trapped for recreation or when their damming activity impacts agricultural crops, roads or timber harvest even though successful co-existence strategies exist and are more cost effective.
Historic beaver trapping began the transformation of our streams and rivers. Later timber harvest, mining, roads, livestock grazing, and other land conversions further altered streams leaving them deeply incised and/or over wide, isolated from their floodplains and with limited native riparian vegetation. These changes led to declines in ecosystem health and function, stream flows and water quality, a loss of natural wildfire breaks, and in many cases ESA listing of fish and wildlife species. It is long past time to begin rapid and widespread restoration of these systems.
So come join us and learn about beavers and why we should advocate for increasing their distribution across the landscape. Learn what they need FROM US so that they can provide FOR US the ecosystems services all communities require to survive and thrive.
ZOOM LOGIN
https://us02web.zoom.us/j/88009761937?pwd=am1OL3Q5Q3ZmNURoMHFFZm93dUI0UT09
Meeting ID: 880 0976 1937
Passcode: 395547
About Dr. Suzanne Fouty
Suzanne has been exploring the issue of water in the West for the last 30 years and contributions made by beaver to ecosystems for over 25 years. Her Master's looked at long-term groundwater recharge rates in arid and semi-arid areas. Her PhD explored how streams respond to changes in cattle and elk grazing pressure and beaver activity, now and historically. She worked for the Wallowa-Whitman National Forest in eastern Oregon as a hydrologist and soils specialist examining how human land uses affect water and soil health for almost 16 years before retiring in 2018.
Suzanne was included in the PBS Nature episode "Leave it to Beavers" and featured in the film "The Beaver Believers." She was a key driver behind three recent efforts to close federally-managed public lands to beaver trapping and hunting – two before the Oregon Fish and Wildlife Commission (2020) and one in the Oregon state legislature as HB 2843 (2021). Despite the science and the severity of recent droughts and wildfires, these efforts have all failed due to politics. She also helped write the recommendations being used to guide the current Beaver Management Work Group effort.
Her work continues to teach her about the need for humans to seek out and actively partner with wild communities if stream/riparian restoration is to occur at the speed and scale needed to minimize the impacts of climate change, as well as the social and political obstacles preventing, in this case, beaver from doing their life-changing, water-related habitat work, work that would leave us all better off.
2022-04-27 16:00
2022-04-27 16:00
America/Denver
April 27—Broadchat: Beavers, Our Amazing Nature's Engineer
Broadchat: Beavers, Our Amazing Nature's Engineer Wednesday, April 27, 4:00PM (Pacific) You are invited to an important Broadchat on Beavers, our amazing Nature's engineer that has the ability to help restore riparian and stream ecosystem health and their biodiversity. Our speaker will be Dr. Suzanne Fouty, who has studied and worked on this issue for […]
Zoom Event
susan@greatoldbroads.org