Educate, Engage, Act! Be a Leader for Change.
2018 marked the 10th Anniversary of our Broadband Program!
What is a Broadband?
Broadbands are member-run regional or local chapters across the country formed around Broads' mission to preserve and protect wilderness and wild lands.
These chapters, led by volunteer leaders and co-leader teams, are made up of passionate and dedicated Broads and Bros of diverse backgrounds and ages, with a fire for change and a love for the land.
Have Fun Doing Serious Work
Focused on education, advocacy, outreach, and collaborative stewardship projects—humor and joy play a fundamental role in our work. Broadband members share stories, experiences, and passions; creating deep connections to each other and the earth that lead to stronger Broadbands and stronger advocacy. As for activities, there's something for everyone:
Educational events, lectures, films, or book clubs.
Stewardship projects to monitor and collect data, build/maintain trails, remove invasive plants, etc.
Attend public meetings, write letters, organize or participate in protests or rallies.
Work with land management agencies and political leaders.
Represent Broads at local events, make presentations, and attend gatherings.
Lead hikes, enjoy happy hour, and take road trips.
Host local Broadwalk or Broadwork events.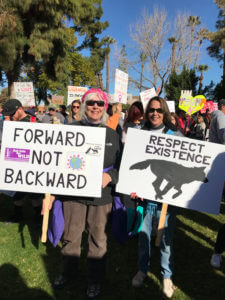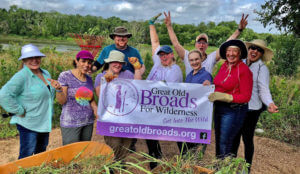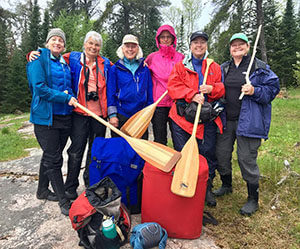 Start or Lead a Broadband
Are you ready for a deeper commitment?
If there isn't an active Broadband in your region and you'd like to start one, please contact us. We help people all over the country start Broadbands, build membership, and create action.
Each broadband has a leader or co-leaders that fuel the momentum of their teams by providing support, leadership, and resources needed to hit the ground running. Here's the Broadband Leader position description.
To start a Broadband, think about the following:
What issues do I care about? Where is my fire?
What are current conservation challenges facing my region?
What might we do to create change around these issues?
Who do I know that is interested and that I can recruit to help get a group going
Do you…
Display "Broadness" (fierce passion for wild land protection, humor, inclusiveness, open to diverse input).
Practice strong communication skills and the ability to work with volunteers.
Have prior conservation or wilderness knowledge, or a desire to learn and share.
If you answered yes to these and would like to know more, take a look at our Volunteer Broadband Leader Position Description. You can apply to be a Broadband Leader here.
Wilderness Advocacy Leadership Training
If you're ready to take on a leadership position, we'll provide you with solid training, support, mentorship, and the right tools. Our training for new leaders offers an intensive, fun, and engaging hands-on experience.
You'll learn about:
Grassroots organizing and democratic action
Communication and leadership development
Lobbying, public engagement, and advocacy techniques
The history of Broads and Wilderness
Our public lands management agencies and how you can influence management.
How to plan events, activities, and campaigns alone or in partnership with others.
How to document observations and collect data in the field.
Public lands issues related to the impacts of grazing, roads and off-road vehicles, oil, gas, and mineral development, climate change, and more.