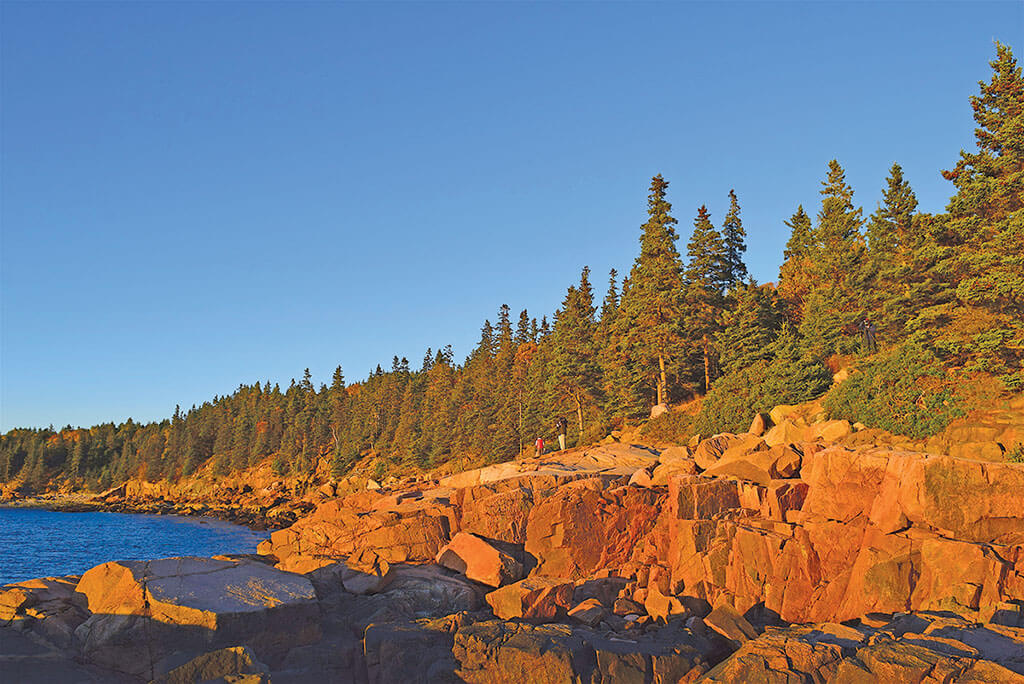 August 30–September 3, 2021
Climate Change & Coasts: The MAINE Reason to Act Broadwalk

Hurricane Island Center for Science & Leadership, Rockland, Maine


Our Focus
Marine ecosystems, ocean warming and sea level rise, community resilience, and climate change.
A Salty Situation
Join us at Hurricane Island Center for Science and Leadership, in a breathtaking setting off the rugged coast of central Maine for a unique Broadwalk experience. The Hurricane Island center, which hosts educational programming throughout the summer, will be our home base as we learn, adventure, and connect to this place together.
The granite coastline with views of Penobscot Bay, the open Gulf of Maine, and surrounding islands will be our classroom as we explore how the ocean, marine life, and coastal systems—such as estuaries, rivers, and salt marshes—are being impacted by a changing climate.
Our partners at the Maine Department of Environmental Protection will share the history and current state of the wild inhabitants of the Weskeag Salt Marsh and we'll have presentations from local environmental experts who are monitoring changes to these fragile ecosystems. Other speakers will discuss ocean ecology, the critical interrelationship of coastal ecosystems, and the important role these systems play in sequestering carbon and contributing to a healthier planet. Should we have inclement weather, we have the luxury of an inside space available to us for our evening festivities.
Glamping on the Shore
Accommodations include plenty of tent camping and limited yurt lodging. We've reserved two yurts, each with 8–10 sleeping cots. Tents, sleeping bags/pads, and bedding for the yurts are not provided, so please plan on bringing your own.
Other amenities include potable water, bathrooms with showers (yay!), and flushing toilets.
Breakfasts and dinners made with locally-sourced food will be provided by our hosts at Hurricane Island, and lunches will be on your own. Information going out to registered attendees will provide suggestions on what to bring for lunches, as well as travel logistics and a packing list.
So Much to Do…
In addition to educational activities, we'll have guided intertidal zone and history hikes, stewardship opportunities, and water time on rowing gigs, pulling lobster pots, swimming, pier jumping, and more.
We look forward to gathering at this beautiful setting for a truly special coastal experience!
You must be a member to attend this event.
FIRST-TIMER? Never been to a Broads' event?
Email us at membership@greatoldbroads.org for the secret code and receive 10% off your registration.
More event details will be sent to registrants 3–4 weeks prior to the event.
We love animals, but NO PETS, PLEASE.
Event Cancellation Policy
2021-08-30 15:00
2021-08-30 12:00
America/Denver
August 30–September 3—Climate Change & Coasts: The MAINE Reason to Act Broadwalk
August 30–September 3, 2021 Climate Change & Coasts: The MAINE Reason to Act Broadwalk Hurricane Island Center for Science & Leadership, Rockland, Maine Our Focus Marine ecosystems, ocean warming and sea level rise, community resilience, and climate change. A Salty Situation Join us at Hurricane Island Center for Science and Leadership, in a breathtaking setting […]
Hurricane Island Center for Science & Leadership
susan@greatoldbroads.org