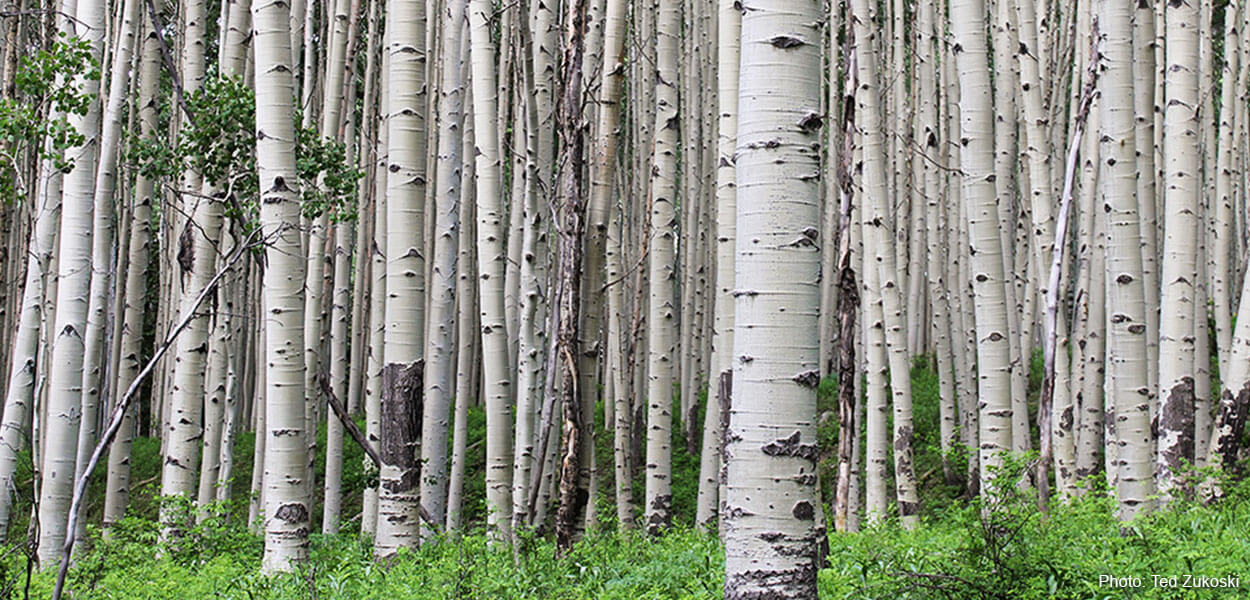 JULY 9-14, 2018

Fishlake Nat'l Forest Aspen Broadwork
Fishlake National Forest, near Fish Lake, Utah
Hug a Tree

Love aspens? Come listen to the wind rustling leaves in the world's largest aspen stand (known as the Pando Clone)—and help us restore it to its natural glory. You'll see aspen recovery first hand—after years of sprouts being browsed by cattle, deer, and elk. Join Broads and our partners at Grand Canyon Trust (GCT) to learn about the interesting—and sobering—impacts of cattle grazing and non-native invasive weeds on biodiversity.
Working with staff from GCT, you'll document on-the-ground conditions (biodiversity, vegetation coverage, aspen growth, etc.) and remove invasive species and non-native weeds. One afternoon, we'll also enjoy a lovely afternoon hike through a forested canyon and along a snowmelt-fed stream.
NOTE: No experience necessary, our friends at GCT will train you. Work intensity level is moderately strenuous. Activities will include off-trail hiking, and bending over/kneeling while removing invasive weeds and collecting data. Please consider your abilities before signing up.
Camping & Capacity
We will car camp at our base camp for six nights under the stars. Potable water and bathrooms will be available. Three healthy meals a day and snacks are included. GCT will provide tools and field equipment. This trip is limited to nine people, so hurry and register today!
More event details will be sent to registrants 3–4 weeks prior to the event.
We love animals, but NO PETS, PLEASE.
Event Cancellation Policy
2018-07-09 12:00
2018-07-09 10:00
America/Denver
July 9–14 Fishlake Nat'l Forest Aspen Broadwork
JULY 9-14, 2018 Fishlake Nat'l Forest Aspen Broadwork Fishlake National Forest, near Fish Lake, Utah Hug a Tree Love aspens? Come listen to the wind rustling leaves in the world's largest aspen stand (known as the Pando Clone)—and help us restore it to its natural glory. You'll see aspen recovery first hand—after years of sprouts […]
susan@greatoldbroads.org