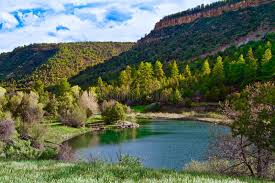 June 13 monthly "meeting" 
Meet at Pa-Co-Chuh-Pak in the Ridgway State Park for picnic  

lunch at 12 noon

.  Either bring your own lunch only or bring a few snacks to share.  We will have time to chat and just be together.

12:30pm  Check in and relational time

We then have 

2 parallel activities (choose one)
1) A hike up Enchanted Mesa for those wanting to hike more vigorously.

2) A botany walk for those wanting to learn more about plants etc. and also those not wanting to walk quite as much.  Peggy will lead this activity.
Please bring clothing prepared for whatever weather we are having that day. Binoculars if you have them. Water. Good shoes for the walk.
You can choose how long you would like to walk with us.  The walk starts with a few zigzags up to the Mesa and then continues for 2.5 miles all the way to the Dutch Charlie Reservoir section of the State Park.  There are benches, viewpoints and flowers along the way.  RT is 5 miles, you can turn around at any point.  With questions contact
northernsanjuanbroadband@gmail.com
2022-06-21 12:30
2022-06-21 00:00
America/Denver
June 13 | 12:30 PM Northern San Juans CO Monthly Meeting
June 13 monthly "meeting"  Meet at Pa-Co-Chuh-Pak in the Ridgway State Park for picnic  lunch at 12 noon.  Either bring your own lunch only or bring a few snacks to share.  We will have time to chat and just be together. 12:30pm  Check in and relational time We then have 2 parallel activities (choose one) 1) […]
Ridgway State Park
susan@greatoldbroads.org