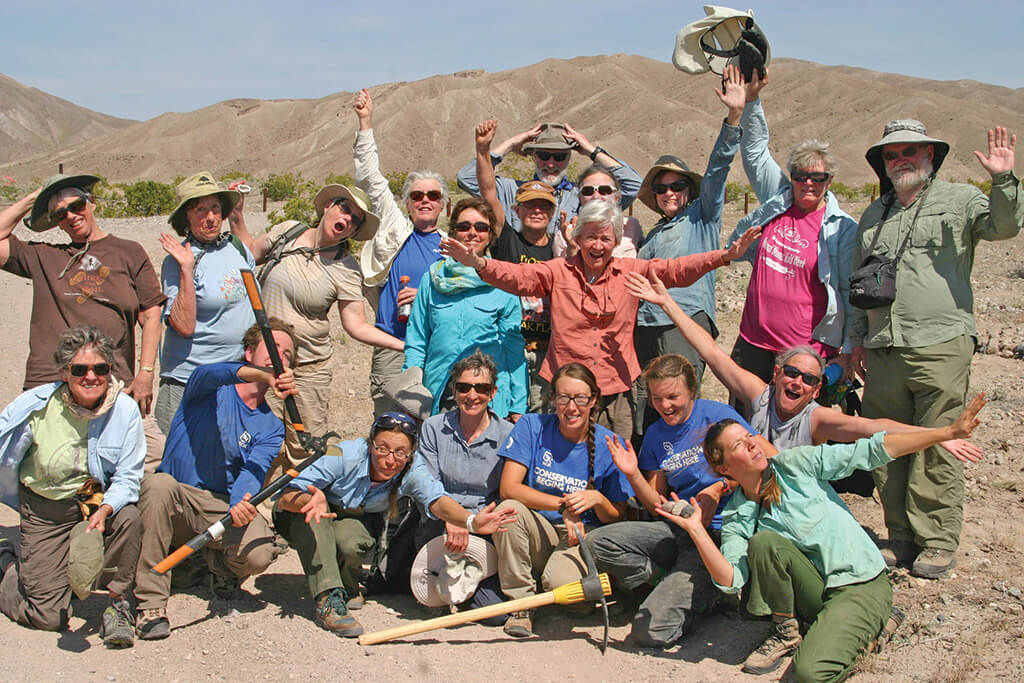 After experiencing the magic of the Mojave last year, we've decided to return for more desert "soul food." We'll team up with our friends at Amargosa Conservancy for important stewardship work, while enjoying a flush of spring wildflowers across the wide-open spaces of this wild and incredible landscape.
Loving the Land
You'll be schooled in the fine art of vertical mulching, a tchnique used to camouflage rogue ATV trails that don't belong in this fragile ecosystem. The Amargosa gals have other projects for us as well to get us out in this unique and diverse terrain.
We'll have three workdays and one play day—where we'll treat ourselves to the Shoshone wetlands, world-class hiking, birding, hot springs, or nearby Death Valley.
Accommodations & Alimento
We will stay at the charming and historic Shoshone Village's campground, with access to showers, bathrooms, a warm spring pool, and more. For an additional fee, the RV Park offers sites with full hook-ups for camp trailers and two cabins for rent.
Cost includes homestyle meals for breakfast and dinner. Lunches and snacks are on your own.
2017-03-15 12:00
2017-03-15 00:00
America/Denver
March 15–20 – Mojave Desert Restoration Broadwork
After experiencing the magic of the Mojave last year, we've decided to return for more desert "soul food." We'll team up with our friends at Amargosa Conservancy for important stewardship work, while enjoying a flush of spring wildflowers across the wide-open spaces of this wild and incredible landscape. Loving the Land You'll be schooled in […]
susan@greatoldbroads.org