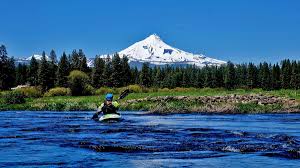 It's time to resume Bitterbrush GOB hikes, and next week that means the 
West Metolius River Trail via Canyon Creek CG, 
on 
Thursday, May 12, meeting in Sisters at 9 am!
Registration for hike – Please email ryndaclark@gmail.com to register

. If you wish to carpool from Bend, please indicate so when you reply.  
We will hike north/downstream and back via the gorgeous West Metolius River Trail, from Canyon Creek Campground past the Wizard Falls Fish Hatchery area and return. Plenty of beautiful river scenery, spring flowers, big trees, aquatic and forest birds, and possibly river otters or other wildlife. Easy trail, good surface, about 6-8 miles. Picnic lunch along the river.
Meeting place in Sisters is at 

9am

 at the Village Green City Park

, across the street from the Sisters Fire Station, on Elm Street between Washington and Jefferson Streets. There are good bathrooms and water available there. I will be driving a silver Ford F15o pickup with a black roof pod. We will arrange final car pooling from there as needed (about 15 miles to the trailhead, partly gravel road). 
Things to bring: the usual 10 or 12 (or whatever) essentials, lunch and liquids (you can filter water from the river if desired—it's cold and delicious), camera, binoculars, flower and bird books, and the like. You will need a NW Forest Pass, or equivalent, to park at the trailhead.
NOTE: I will be bringing my dog, Wilder, who will be off leash, per our usual way. You can bring your dog too, on or off leash as s/he is reliably and politely able. Bring poop bags and be prepared to carry it out, or bring a trowel to bury the waste. It's a popular trail and we will likely be meeting many other hikers.
Broads members
 – All attendees at hikes 
must be
 current Broads members. If you do not know the status of your membership, please contact
alyssa@greatoldbroads.org
.
2022-05-12 09:00
2022-05-12 00:00
America/Denver
May 12 | 9 a.m. Bitterbrush GOB West Metolius River Trail Hike
It's time to resume Bitterbrush GOB hikes, and next week that means the West Metolius River Trail via Canyon Creek CG, on Thursday, May 12, meeting in Sisters at 9 am!    Registration for hike – Please email ryndaclark@gmail.com to register. If you wish to carpool from Bend, please indicate so when you reply.     We will hike north/downstream and back via the […]
susan@greatoldbroads.org