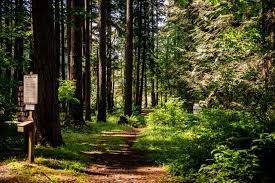 Join Washington's South Sound Broadband for a hike at Millersylvania State Park Meet at the entrance parking lot of the park at 10:00 on Sunday, May 15. Also, those who want to carpool from Olympia, we can meet again at the Tumwater Fred Meyer parking area closest to the Starbucks at 9:30. Bring a Discovery Pass if you are a driver.
Depending on how wet it is, we can choose a route that keeps your feet out of big puddles!
Let's plan on hiking 3-4 miles, but shorter distances are possible because of all the loops.
Trail maps are available along the way (you are here), as well as paper copies you can get on the website.
See the links here for info on the park and a map so you can find your way there.
2022-05-15 09:30
2022-05-15 00:00
America/Denver
May 15 | 9:30 AM Hike at Millersylvania State Park WA
Join Washington's South Sound Broadband for a hike at Millersylvania State Park Meet at the entrance parking lot of the park at 10:00 on Sunday, May 15. Also, those who want to carpool from Olympia, we can meet again at the Tumwater Fred Meyer parking area closest to the Starbucks at 9:30. Bring a Discovery Pass […]
Millersylvania Statee Park
susan@greatoldbroads.org