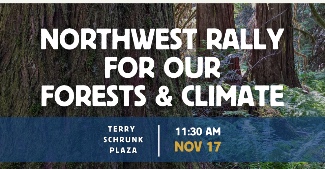 Preserving our mature and old-growth forests is one of the best ways we can fight climate change, as well as preserve wildlife habitat and drinking water. Join the Oregon Willamette Valley Broads, Bros and other activists rallying across the country to make sure the Forest Service (and the President!) know our forests are worth more standing!
We'll start gathering between 11:30 AM and noon at Terry Schrunk Plaza (directly across from the regional Forest Service office) for live music and hot drinks, to make art together, and deliver a petition signed by over 100,000 forest lovers from across the US to make our message loud and clear that we need a lasting, durable rule that protects these climate forests from destructive logging projects.
Bring a mug and a sign that says what you love most about Oregon's public forests! Sign up HERE for more details and updates on this important event!
***To carpool with other Willamette Valley Broad and Bros from Eugene, Brownsville and Corvallis please sign up HERE. Let's fill the plaza on November 17th!
WE WILL MEET AT THE PARK & RIDE AT I-5 AND HWY 34 AT 10:00 TO CARPOOL TO PORTLAND. IF YOU WANT TO CARPOOL FROM EUGENE CALL CHANDRA AT 541-915-2363.
Date: 11/17/2022 (Thu.)
Time: 9:00am – 4:00pm PST
Location: Carpools TBA
2022-11-17 11:30
2022-11-17 04:00
America/Denver
November 17 | Portland Rally for our Forests and Climate
Preserving our mature and old-growth forests is one of the best ways we can fight climate change, as well as preserve wildlife habitat and drinking water. Join the Oregon Willamette Valley Broads, Bros and other activists rallying across the country to make sure the Forest Service (and the President!) know our forests are worth more […]
431 SW Madison St, Portland, OR 97204
susan@greatoldbroads.org