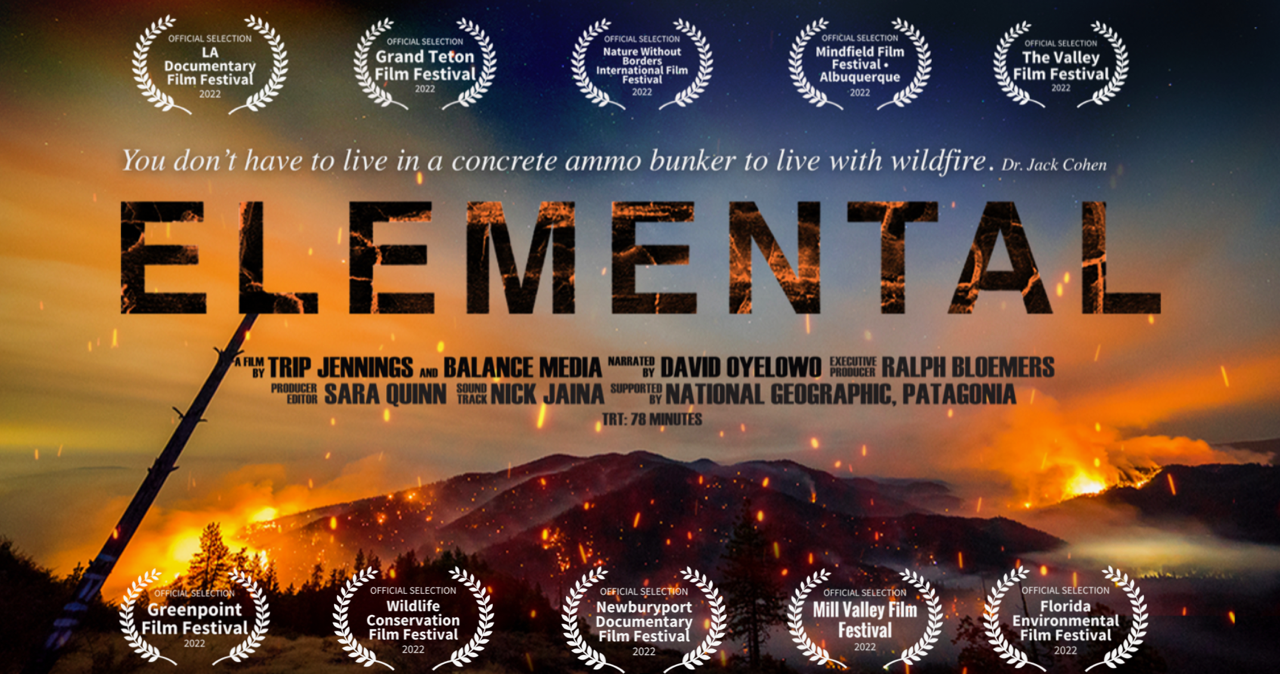 Join Broads on October 6th at 5 PM PST and 6 PM MST for a private screening of ELEMENTAL followed by Q&A with filmmaker Ralph Bloemers. The film is 78 minutes, and the Q&A will start after the screening.
This is a special showing for Great Old Broads sponsored by the Tucson chapter.
Advance Registration is Open Now (Space is limited, only register if you plan to attend):
https://vimeo.com/webinars/events/239364e2-5d24-47ab-8fae-957d6ee46515
About Elemental
Filmed in Oregon, Washington, California, Montana and Colorado, and Narrated by David Oyelowo, ELEMENTAL takes viewers on a journey with the top experts in the nation to better understand fire. We follow the harrowing escape from Paradise as the town ignited from wind-driven embers and burned within a few hours of the fire's start.
The film continues to the even more recent fires just 2 years ago, when California and Oregon suffered some of our worst wildfires in recorded history – when the 2020 windstorm resulted in five simultaneous "megafires". We visit fire labs where researchers torch entire houses to learn why some homes burn and others survive. We learn from Native Americans as they employ fire to benefit nature and increase community safety as they have for thousands of years. We follow researchers who work to understand the effects of climate on forests and the crucial role that natural forests play in storing vast amounts of carbon. Along the way we listen to people who have survived the deadliest fires to underscore the importance of this quest.
ELEMENTAL is as emotionally gut-wrenching as it is powerfully informative. It's filled with hard facts about what happened, what will happen, what we can do, and in the end, is filled with the right information to give us hope as we prepare for an increasingly hotter future.
Salem Cinema owner Loretta Miles say of the documentary, "The film is beautifully done, of indispensable importance and so vitally relevant. This is the very kind of movie I live to be able to present to my community."
As we grapple with heat waves, drought and more fire, ELEMENTAL is a timely and important look at discovering how we can all reimagine our relationship with wildfire.
RALPH BLOEMERS, EXECUTIVE PRODUCER
For nearly two decades, Ralph has advised community-based conservation groups, recreation clubs and citizens throughout the Pacific Northwest on the conservation of our forests, including burned landscapes. Over the past two years he has investigated the causes of fires, documented wildlife in burned landscapes, volunteered his time to rebuild trails in fire burned areas and spent time in these forests with firefighters, expert scientists and ecologists. Ralph has helped the public, decision makers and students confront the dominant cultural beliefs about fire, and understand the paradoxes that mark our relationship with it.
2022-10-06 16:00
2022-10-06 16:00
America/Denver
Oct. 6 | Online Film Screening: Elemental
Join Broads on October 6th at 5 PM PST and 6 PM MST for a private screening of ELEMENTAL followed by Q&A with filmmaker Ralph Bloemers. The film is 78 minutes, and the Q&A will start after the screening. This is a special showing for Great Old Broads sponsored by the Tucson chapter. Advance Registration […]
susan@greatoldbroads.org