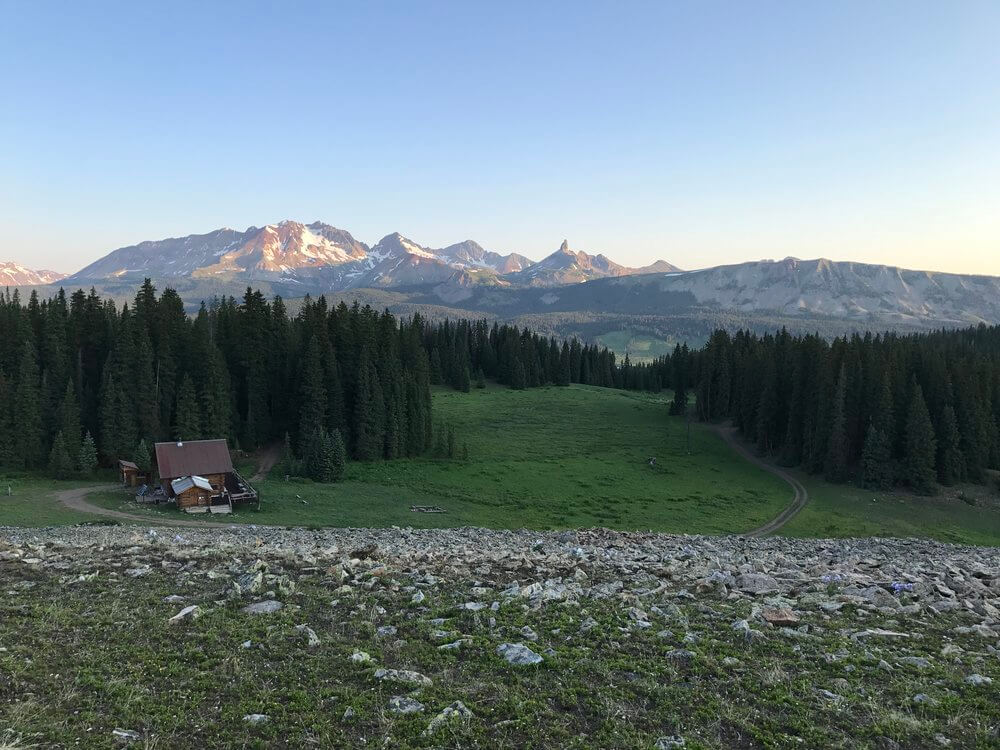 Friday, October 2–Sunday, October 4, 2020
The Physical Stuff of Your Life (and how to use it to gain access to the emotional stuff): A Generative Workshop by Pam Houston

Sorry, this event is full! Call us at 970 385-9577 if you wish to be placed on a waiting list!
Join us for a unique and memorable trip, Broads style!

Workshop Description: This will be a generative workshop in which we focus on all the ways the sensory details that surround us—the sights, sounds, smells, tastes, and textures—can give us access to that much more elusive interior landscape we are always trying to access when we write. If we write those details all the way down to the bone. If we sit in the dark with them and let them distill up from the swamps of memory. We will focus on what I believe to be the real artistry of prose writing: the way we dip our ladles into the bottomless pot of metaphor soup of our lived and witnessed experience and pull out what we need; the way we pick up hunks of the physical world and bring them back to the page, translated into language. We will be aiming for work in which the language is always working in at least two ways at once, where metaphors dance between meanings like beads of water on a too-hot grill. We will work toward demystifying some of the essential components of prose writing (image, metaphor, structure, dialogue, character, scene, among others) and turning them into comprehensible tools that are at our disposal. We will all, no doubt, be humbled in the face of languages' unlimited possibility as well as its limitation. At the same time, we will honor (and hope for) the inexplicable flights of creativity (and madness?) that take a good story and make it great.

Mountain High Inspiration
We'll hike a little over two miles on an old forest service road (1,000 ft elevation gain) to the magical High Camp Hut, which sits at over 11,000'. The hut is equipped with a full kitchen and dining area, private and shared bedrooms, a gorgeous deck, and a wood-fired hot tub and sauna. This workshop event will take place in a jaw-dropping mountain locale nestled in 320 acres of privately-held land within the 2-million acre San Juan National Forest. Participants are responsible for hiking in with their daypacks and remaining gear will be transported in.
*Please note: High elevation settings can be difficult or pose a health risk for some people. Acclimate for two days in Telluride or Rico if you've experienced challenges or consult your physician with health concerns prior to registration. Transportation arrangements for hiking impaired or challenged available upon request.
This beautiful location is guaranteed to inspire, and we will avail ourselves of the surroundings by taking walks, writing from the landscape, and letting the views inspire us. Benches are scattered about where you can write or contemplate the scenery. Please come armed with pen, paper, or laptop, your vast memory banks, your active and engaged senses, and all the things you don't even know you know.
Enjoy a Friday night community dinner, three meals on Saturday, a tasty Sunday morning breakfast, and grab a brown bag lunch for the hike out—all prepared by Broads' talented staff. We are dedicated to creating high quality, organic, healthy meal options that will meet the needs of your dietary requirements and preferences.
Only 8 spaces available!
Price includes lodging and meals:
$1065 per person for no-share single bed (8 spots)
$1000 per person for shared queen (2 queens/4 spots)
First come, first served
---
About Pam Houston
Pam Houston is the author of the memoir, Deep Creek: Finding Hope In The High Country, as well as two novels, Contents May Have Shifted and Sight Hound, two collections of short stories, Cowboys Are My Weakness and Waltzing the Cat, and a collection of essays, A Little More About Me, all published by W.W. Norton.
Her stories have been selected for volumes of The O. Henry Awards, The Pushcart Prize, Best American Travel Writing, and Best American Short Stories of the Century among other anthologies. She is the winner of the Western States Book Award, the WILLA Award for contemporary fiction, the Evil Companions Literary Award and several teaching awards.
She teaches in the Low Rez MFA program at the Institute of American Indian Arts, is Professor of English at UC Davis, and co-founder and creative director of the literary nonprofit Writing By Writers. She lives at 9,000 feet above sea level near the headwaters of the Rio Grande.
2020-10-02 07:00
2020-10-02 12:00
America/Denver
Pam Houston Mountain Retreat Writing Workshop FUNdraiser
Friday, October 2–Sunday, October 4, 2020 The Physical Stuff of Your Life (and how to use it to gain access to the emotional stuff): A Generative Workshop by Pam Houston Sorry, this event is full! Call us at 970 385-9577 if you wish to be placed on a waiting list! High Camp Hut, outside […]
High Camp Hut
susan@greatoldbroads.org