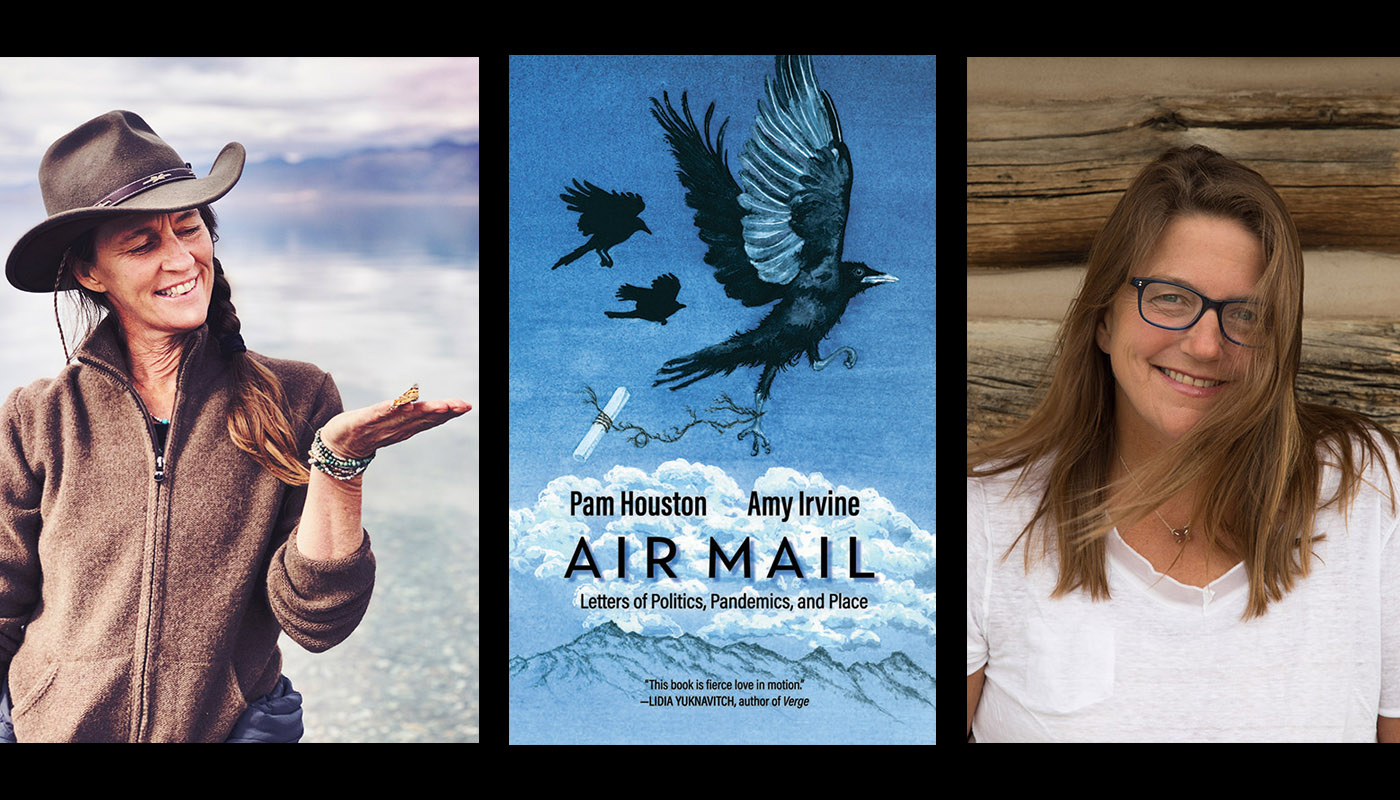 Thursday, October 1, 2020
Rochester Hotel, Secret Garden


726 E 2nd Ave


Durango, CO

5:30–7 pm
Join us for a special reading by authors Pam Houston and Amy Irvine on Thursday, October 1 at the Rochester Hotel's Secret Garden in Durango, Colorado, where they will read from their new release AIR MAIL .
When the state of Colorado ordered its residents to shelter in place in response to the spread of coronavirus, writers Pam Houston and Amy Irvine—who had never met—began a correspondence based on their shared devotion to the rugged, windswept mountains that surround their homes, one on either side of the Continental Divide. As the numbers of infected and dead rose and the nation split dangerously over the crisis, Houston and Irvine found their letters to one another as necessary as breath. Part tribute to wilderness, part indictment against tyranny and greed, Air Mail: Letters of Politics, Pandemics, and Place reveals the evolution of a friendship that galvanizes as it chronicles a strange new world.
Houston and Irvine will also read from their recent individual releases, Deep Creek and Desert Cabal, respectively.
Limited space available. Suggested $15 donation. Register here!
Cash bar.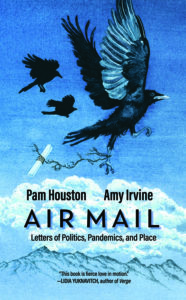 Praise for Air Mail
"An affecting collection of candid, heartfelt letters that stands as a testimony to the sustenance of friendship in frightening times."
—KIRKUS REVIEWS
"This epistolary exchange, which becomes a friendship, and then a fierce and loving sistership, reminds us that solidarity, by which maybe I really mean love, emerges in conversation—in listening, in asking, in sharing, in wondering, in sorrowing, in raging, in attempting, in dreaming. In dreaming together, with each other, and for each other. This takes practice, and it takes care. Pam Houston and Amy Irvine's Air Mail is evidence of that practice. It is evidence, and a seed, of that care."
—ROSS GAY, author of The Book of Delights
"These letters are pure outpourings of deep thought and daily life. Houston and Irvine reveal the ferocity of women who have made their lives in the wilderness and by the pen, the depths of wisdom hard-won, survival and what it cost, and all of this in a language where horse hooves can be heard thundering. They invite us to read our precarious moment in the light of conscience, as they excavate the layers of denial and historical amnesia that have kept us from knowing who we are, and then with determination and grace, they envision our possible future."
—CAROLYN FORCHÉ, author of In the Lateness of the World
"Pam Houston and Amy Irvine bring rivers and mountains and valleys onto the page and into your heart, reminding you how you are still part of a body that matters. They bring the beauty of animals and trees, the hum of motherhood drumming up from the very ground, the hard truths and difficult days of violence and virus woven through with what's left in us: fight, resilience, and astonishingly, song. This book is fierce love in motion."
—LIDIA YUKNAVITCH, author of Verge
Praise for Deep Creek
"Pam Houston is the rodeo queen of American letters. In Deep Creek, her voice has never been more fully realized, and her message never more important."
—Samantha Dunn, author of Not By Accident
"In the face of the world's turmoil, this book is utter clarity. In the face of the world's harshness, this book is a soft place to land. If you find yourself careening toward despair, pick up Deep Creek and read even just one page. The words there will lift you back to hope—not the sentimental kind, but the kind that can and does change the world for the better. What gratitude we owe to Pam Houston for writing it."
—B.K. Loren, author of Animal, Mineral, Radical
Praise for Desert Cabal
praise for desert cabal by amy irvine
"No matter your feelings about Edward Abbey or your relationship with Desert Solitaire, Irvine's Desert Cabal adds necessary depth to the dialogue. Many of us have been waiting years for that."
—ALBUQUERQUE ALIBI
"Desert Cabal has riled up some Abbey fans, but that's exactly what makes it an important read."
—OUTSIDE
2020-10-01 17:30
2020-10-01 19:00
America/Denver
Special Reading by Author Pam Houston & Amy Irvine
Thursday, October 1, 2020 Rochester Hotel, Secret Garden 726 E 2nd Ave Durango, CO 5:30–7 pm Join us for a special reading by authors Pam Houston and Amy Irvine on Thursday, October 1 at the Rochester Hotel's Secret Garden in Durango, Colorado, where they will read from their new release AIR MAIL . When […]
726 E 2nd Ave, Durango, CO 81301
susan@greatoldbroads.org