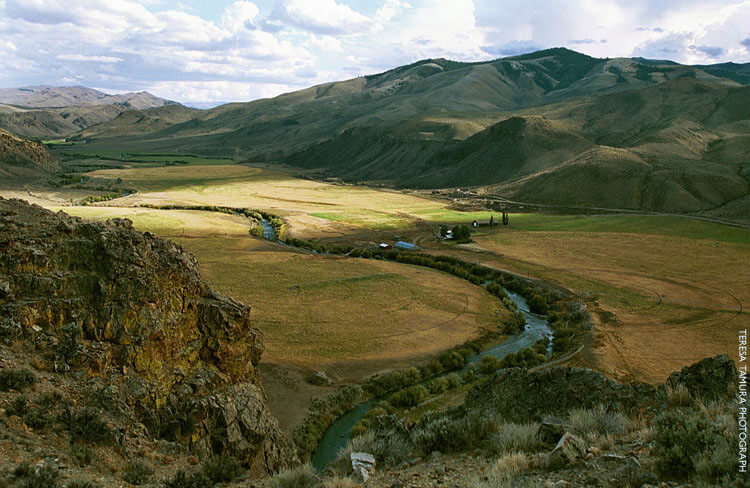 June 19–25, 2016
Sage Grouse Habitat Monitoring Broadwork

Greenfire Preserve, near Challis, ID
In partnership with the Wild Utah Project (WUP), we're seizing a golden opportunity to help central Idaho sage grouse thrive and potentially bring about sorely needed grazing management improvements on the Warm Springs grazing allotment.
This past fall, the BLM enacted Land Use Plan amendments across the west intended to build stronger protections for sage-grouse habitat. We will test the strength of these stated reforms and protections, by using BLM's own methods to conduct on-the-ground assessments of landscape conditions.
Science for Sage Grouse
WUP's science staff will coach us on how to conduct the fieldwork. We'll share our data with the BLM to ensure the habitat meets the new condition indicators, thresholds, and benchmarks as spelled out by BLM's new Land Use Plan. This is important work: if our data shows the allotment fails to meet the new land condition requirements for sage-grouse habitat, it provides support to demands that the current livestock grazing management requires change.
The Plan, Our Digs, and Chow
The event begins with happy hour Sunday afternoon and ends with Saturday breakfast. We'll work full days in the field Monday, Tuesday, Thursday, and Friday, with a mid-week break to hike and explore the area—maybe nearby in the newly designated Sawtooth National Recreation Area and associated wildernesses.
We'll camp and base our event at Western Watershed Project's Greenfire Preserve on the east fork of the Salmon River. A variety of sleeping arrangements (camping, beds) are available depending on group size. All will have real bathrooms and showers!
Chef extraordinaire, Ronni Egan, will provide a delicious breakfast and dinner each day. Packable field lunches and snacks are on your own. Prepare to work hard, play hard, and rub shoulders with good people who love the outdoors. This is going to be a popular event and spaces are limited, so register today!