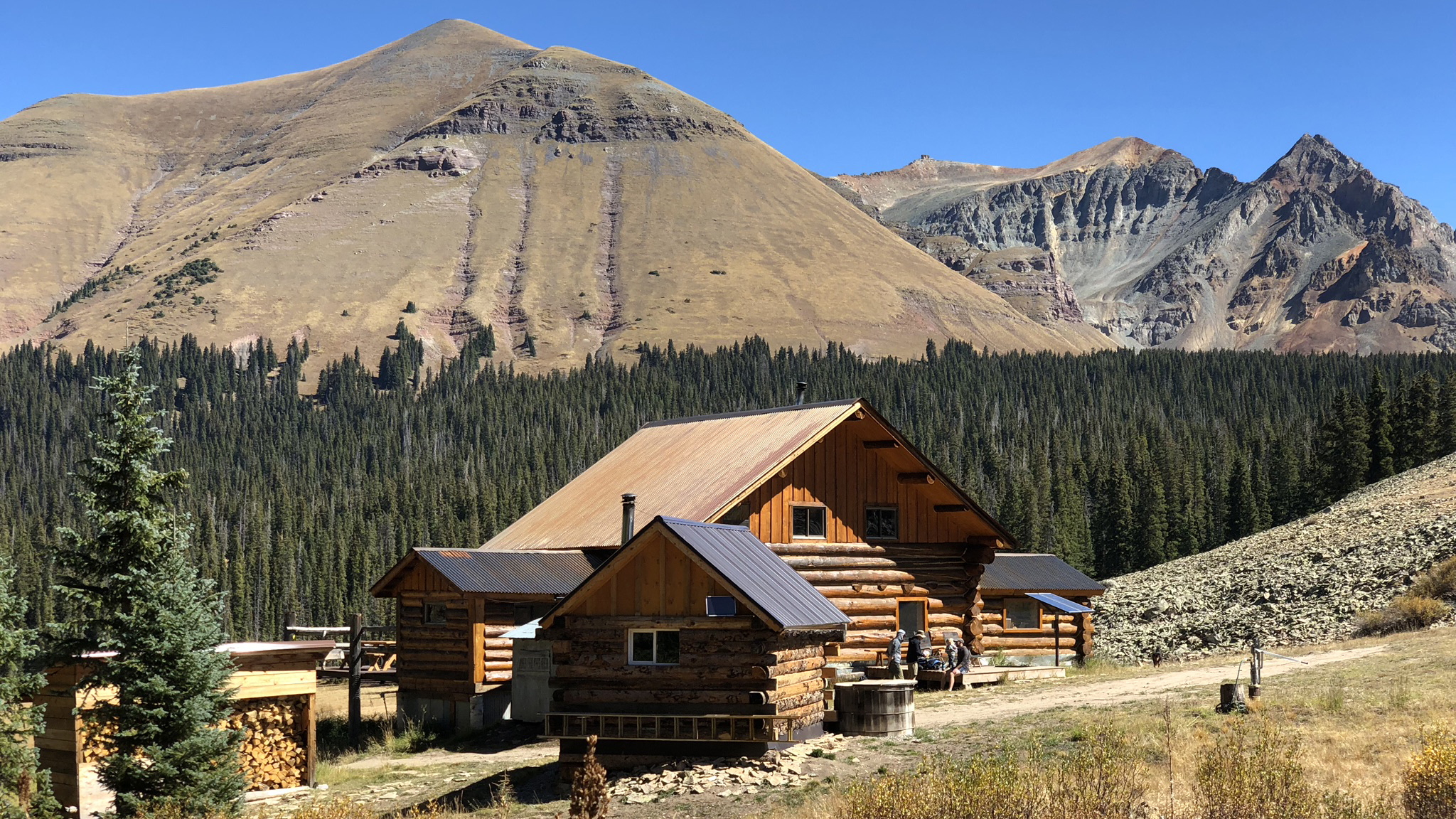 Fall Splendor Food and Wine Retreat
An adventure. A destination. An experience.
High Camp Hut on Lizard Head Pass, near Telluride, CO
Friday, Sept 30 – Sunday, Oct 2, 2022
Fall is beautiful time in the Colorado Rockies! The heat of summer is gone, yet the days are still warm, and the nights cool and crisp—ideal for outdoor adventures. Bluebird skies with snow-capped peaks tower over a landscape dotted with clusters of golden aspens, their leaves quaking in the breeze. It is a magical time to be in Colorado.
Bring your sense of adventure and culinary curiosity and escape with us to High Camp Hut near Telluride, Colorado. You'll connect with nature, experience chef-crafted meals with locally grown ingredients and learn about, and taste some delicious wines from around the world with certified wine specialist Jolin Cordalis (a multi-talented member of Broads staff). As we enjoy flavorful pairings of food and wine, we'll learn about the power of sustainable versus organic versus biodynamic farming practices being applied in vineyards today. Up your knowledge and flavor game with this decadent backcountry retreat treat!
In the vineyard and the winery more and more wine producers are gaining awareness of the damage herbicides, pesticides, fertilizers, and strict monocultures have on the environment, habitat, and ultimately the wines. The uniqueness of wines and wine flavors stems from the sense of place embodied in this magical elixir. Winemakers strive to capture this essence in every sip! Find out with your own taste buds why using your shopping choices to support these conscientious crafts people can help the environment and feed your delight in equal measure.
This experience is limited to 12 participants.
In addition, there will be spectacular hiking and great company as you join Broads' Executive Director Sara Husby and Development Director Kaye Berman on this unique event.
High Camp Hut sits at an elevation of 11,000 ft. You don't have to be in tip-top shape, however your enjoyment will be enhanced by good health and preparation. Please consult with your doctor before venturing to higher elevations. You must sign a liability waiver to attend this workshop.
Be prepared for possible temperature extremes and sudden changes in weather. Be aware that mornings and evenings can be very chilly in September and snow is a possibility.
A schedule of events and more details will be sent to registered attendees.
Included:
Lodging at High Camp Hut (There is no WIFI or cell service available)
Farm-to-Table meals include Friday night happy hour snacks and dinner, Saturday morning breakfast, make your own lunch with items provided (wraps and sandwiches), Saturday evening happy hour and dinner, Sunday morning breakfast and snacks for the road.
Wine and beer, coffee, and tea.
The Fine Print:
We do not guarantee the weather or that every location we visit will be at peak fall color during our visit. However, the timing of this workshop has been carefully determined to maximize our chances. The workshop fee does not include transportation to meeting location. Participants are responsible for arranging their own transportation.
Early Bird Price (through September 9): $250
Regular Price (begins Sept 10): $300
2022-09-30 00:00 2022-09-30 00:00 America/Denver Sept. 30-Oct. 2: Fall Splendor Food and Wine Retreat Fall Splendor Food and Wine Retreat An adventure. A destination. An experience. High Camp Hut on Lizard Head Pass, near Telluride, CO Friday, Sept 30 – Sunday, Oct 2, 2022 Fall is beautiful time in the Colorado Rockies! The heat of summer is gone, yet the days are still warm, and the nights cool and [...] susan@greatoldbroads.org