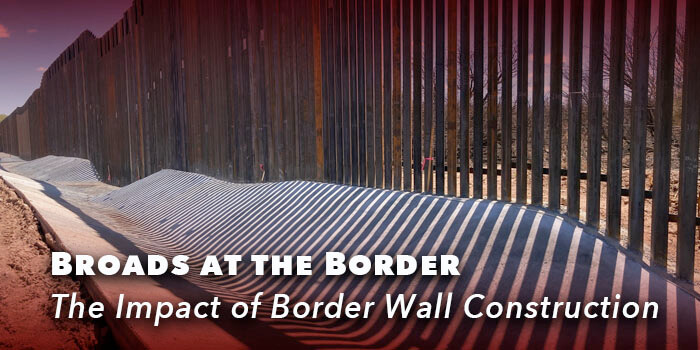 A free online presentation
Tuesday, June 22
5 pm MDT*
4 pm PDT • 6 pm CDT • 7 pm EDT
*That's 4 pm for our Arizona friends
Arizona Broadband leaders recently traveled to document conditions at the border wall. They found ecological devastation and witnessed damage to public lands, plants, wildlife, and waterflow.
Follow their journey as they share what they encountered and hear from coalition partners about our collective efforts to advocate for wall removal and the repair and restoration of the fragile ecosystems impacted by wall construction.
Special Guests & Coalition Partners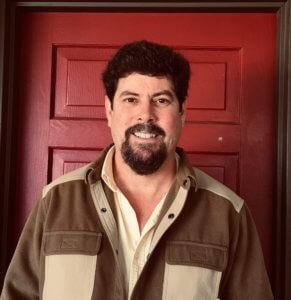 Myles Traphagen, Wildlands Network
Myles coordinates Wildlands Network's borderlands program, with a focus on channeling collaborative efforts to maintain and restore habitat for species like jaguar, black bear and Sonoran pronghorn. He oversees strategic partnerships, communications and projects to advance large-landscape conservation goals in Mexico and the United States.
Myles was drawn to the Borderlands of southeast Arizona after obtaining his bachelor's degree from the University of California at Santa Cruz. He began his career at San Bernardino National Wildlife Refuge east of Douglas, Arizona, working on native fish recovery, grassland restoration and vegetation monitoring on prescribed burns. Although his early years were spent backpacking the Sierra Nevada and Big Sur in his native California, he didn't stray far from the US/Mexico Borderlands and the neighboring Great Plains to the north. He spent several years monitoring grasslands on Ted Turner's bison ranches, and then worked for the Turner Endangered Species Fund, rewilding the Bolson tortoise and advocating for conservation lands in the big turtle's native habitat in Mexico.
He holds a Master of Science from the University of Arizona, where he conducted research on habitat connectivity between the United States and Mexico for the white-sided jackrabbit (Lepus callotis). Always an advocate for species with few champions, he maintains the role of IUCN Red List Authority Coordinator for the Lagomorph Specialist Group evaluating the conservation status of pikas, cottontails and hares of the world. Myles lives with his wife and 4-year-old son in Tucson. They enjoy swimming, playing music, making chile colorado sauce, and spending time with their families in Arizona and Sonora, Mexico. He is a tribal member of the Chickasaw Nation and a veteran of the United States Coast Guard.
Kate Sc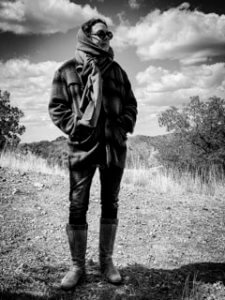 ott is the co-founder/director with her husband Tony Heath of the Madrean Archipelago Wildlife Center, with the mission of building pathways of compassionate coexistence between people and wildlife through actions of wildlife advocacy, education, conservation and wildlife rehabilitation.
Kate is a wildlife preservationist, environmental educator and certified veterinary technician working from her heart and spirit to guide the community to live in right relationship with their wild neighbors. Living lightly on Mother Earth with husband Tony Heath and four-leggeds Tom, Frida and Billie in the Huachuca Mountains of southeastern Arizona in the Madrean Archipelago ecoregion, the most biologically diverse region of North America.
*Note: Arizona does not observe Daylight Savings Time. Arizona time is the same as PDT.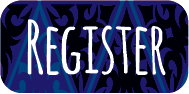 Zoom information will be sent to registered participants.


A $10 donation is suggested to help support our work to protect the wild.
2021-06-22 17:00
2021-06-22 00:00
America/Denver
June 22 – Webinar: Broads at the Border
A free online presentation Tuesday, June 22 5 pm MDT* 4 pm PDT • 6 pm CDT • 7 pm EDT *That's 4 pm for our Arizona friends Arizona Broadband leaders recently traveled to document conditions at the border wall. They found ecological devastation and witnessed damage to public lands, plants, wildlife, and waterflow. […]
susan@greatoldbroads.org