Cascade Volcanoes • Entered by Laurie Kerr on August 16, 2021
Solitude Monitoring
August 15, 2021
Participants and Hours
| | |
| --- | --- |
| Pre Planning hours | 2 |
| Post Admin hours | |
| Activity Hours | 4 |
| Participants | 2 |
| Total Hours | 10 |
Key Issue: Wildlife Protection
Activity Type: Stewardship (monitoring, sampling, planting, etc.)
Key Partners: Columbia River Gorge National Scenic Area FS/National Wilderness Stewardship Alliance
Landscape/area: Mark O. Hatfield Wilderness (65420 acres)
Measurable Outcomes
Outcome 1: Trail/land monitored (6 miles)
Short Description of Activity
We monitored trail #441 for solitude and stopped for a meal afterward.
Reflection/Evaluation
We noted 17 hikers on the trail and one dog on a leash. No occupied campsites were noted along the trail. 4 low elevation flights were also heard. We had a great time and it is a wonderful trail along the Multnomah creek. Notable old growth of cedar and doug fir. Lots of fireweed as the area was recovering from the devasting 2017 Gorge fires. 2 very cool bridges that we crossed over the creek.
Photos/Uploads
Upload 1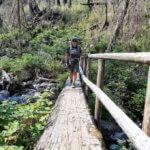 Photo Captions
1-Laurie