Wild Watershed Broads of Southern Colorado • Entered by Fran Silva-Blayney on January 2, 2022
River Watch Site Assessment
December 16, 2021
Participants and Hours
| | |
| --- | --- |
| Pre Planning hours | 0.75 |
| Post Admin hours | 0.25 |
| Activity Hours | 2 |
| Participants | 1 |
| Total Hours | 3 |
Key Issue: Water-related Conservation
Activity Type: Stewardship (monitoring, sampling, planting, etc.)
Key Partners: Colorado Parks and Wildlife
Measurable Outcomes
Outcome 1: Other (1 )
Short Description of Activity
Every year River Watch participants have a "site assessment" which is a stream side test to ensure that QA/QC protocols are being followed. Fran was evaluated and passed!
Reflection/Evaluation
The goal was to pass the site assessment. Goal achieved!
Photos/Uploads
Upload 1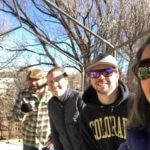 Photo Captions
1. Fran with fellow River Watch participants and River Watch Volunteer coordinator at the site assessment.